About Us
I've been passing down the art of Catch Wrestling to Johnny Huskey (I'll post his bio soon)
My Story
Billy Wicks started wrestling at the age of 15 at Ober Boy's Club & St Paul MN. YMCA. At the age of 19, Billy started working out with McAllister College Wrestling Team & started wrestling in Carnivals. Wicks would take on "all comers' being taught, trained & tutored by a 63 year old Carny wrestler named Henry Kolln. Kolln trained with Farmer Burns. Billy was also trained by Ed "Strangler" Lewis, former Heavy Weight Champion of the World in the 1920's.
Billy has wrestled several Olympic Champion Wrestlers, Alex Cadier, Leopolde Sternberg, Danny Hodge, Jim Larock. He was Pro-wrestling Gulf Coast Champion in 1958, Tri State Champion 1959, & half of the NWA World Tag Team Champions.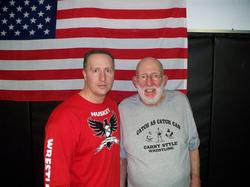 We are trying to keep vintage Catch Wrestling alive. As Catch Wrestlers, we are aware of other styles of Wrestling, such as arm bars and riangles. Wrestling off your back, we don't do that of course. As Catch wrestlers, we get behind your opponent to control him and cause discomfort looking for your hook or your submission holds. We don't want to loose the style of Catch Wrestling from 1890 - 1940's when real Catch Wrestling was being practiced by Pesek, Clarence Eklund, Henry Kolln. The Old timers weren't excited to teach the youngsters, I was lucky enough for Kolln to teach me. I'm excited to get the opportunity to pass on the art of Catch Wrestling to others.